Ghostland Observatory
with Modern Measure
Fri
Mar, 6
Doors:

7:00 pm
Starts:

8:00 pm
Salvage Station - Indoor Stage
All Ages
Artists
Ghostland Observatory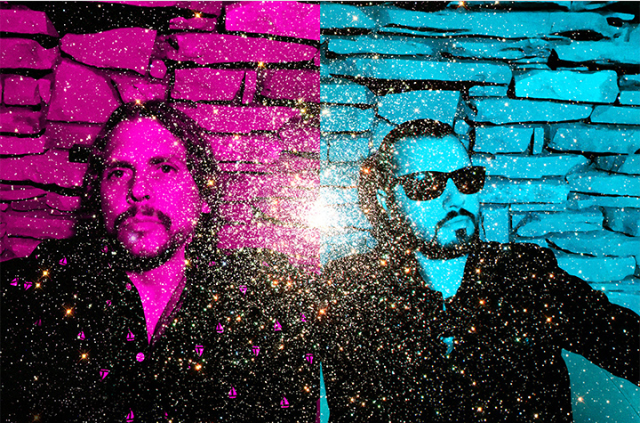 Ghostland Observatory's entire approach to music – sonically, aesthetically, conceptually – is essentially a melding of the two distinctly different personalities of its two members, Thomas Ross Turner and Aaron Behrens. Whereas Turner, the producer/drummer/keyboardist of the duo, finds solace in the minimal, bleak cable-patch squawks of Karlheinz Stockhausen and the analog-disco-thump of Giorgio Moroder, Behrens' interests lie more along the lines of psychedelia, rock and various country and blues artists.
The result is a shimmering, pulsing pop music that is at once kinetically alive with Behrens' striking vocals and driving guitar work but also anchored firmly by Turner's percussive beats and Moog-generated melodies and hooks. Common descriptions include "electro-dance rock," "synth-funk" and "Freddie Mercury-helms-Daft Punk."
Deciding to produce a style of music that as yet existed only in their collective consciousnesses; Behrens and Turner formed Ghostland Observatory in Austin in 2003 and haen't looked back since. They now sell out prominent venues across the country, have played at Lollapalooza, Bonaroo, Coachella and the Austin City Limits music festival, which they headlined, and continue to play at various music festivals and venues around the globe to an ever increasing fan base, thanks to their now-famous live shows.
The duo has released four albums to date, all on Turner's label, Trashy Moped Recordings: Delete.Delete. I Eat Meat., Paparrazi Lightning, Robotique Majestique and their latest offering, Codename: Rondo, which was recorded in Turner's Austin studio.
The ten-track Codename: Rondo is equal parts psyechedelia, minimal electronic, rock, funk and soul. It was recorded with what Turner calls a more "linear approach" in mind. Rather than layering sound upon sound to fill out a track, the band sought to use fewer sounds while striving to make each of them count.
Highlights on the new album include the first track, "Glitter," with its loping, fuzzed-out bassline, tremolo-tweaked vocals and Spaghetti Western guitar break. "That's Right" is a Cars-meet-ZZ Top ripper with the former's signature synth breaks skipping across the latter's overdriven, chugging guitar riffs. Another standout, "Miracles," finds Behrens haltingly phrasing his lyrics in perfect syncopation with Turner's raw keyboard melody before exploding into an irresistible, hand-clapping chorus that is soon chased by running swells of disco strings. "Codename: Rondo," the album's title track, is a perfect example of the band's efforts toward minimal maximization: a surreal narrative recalling a series of nebulous incidents in Newark, New Jersey spoken over nothing more than a steady kick and some faint electronic warbling while, during the breakdown, deep space satellite transmissions blip intermittently over a loop of what seems to be a robot with hiccups and poor phone reception attempting to leave a voicemail.
With Codename: Rondo, Ghostland Observatory has taken a step in a new direction, both creatively and technically, while still maintaining the essential elements of their unmistakable sound: "sweaty, raw-boned, and direct from the future; committed to electronics, stuck on big beats, yet unmistakably powered by rock 'n' roll."
Modern Measure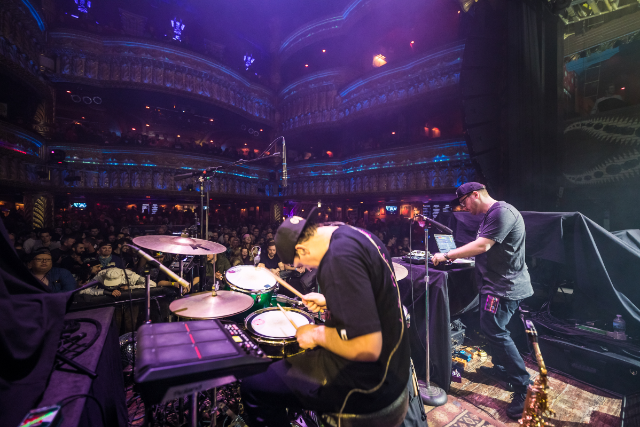 Modern Measure, with their fusion of live organic instrumentation and artfully crafted music production, set themselves apart from the electronic norm. Since formation in 2013, the Atlanta-based group including Kyle Holly (Drums,Production) and Charlie Thornton (Bass Guitar, Sax, Keys, Production) have shaped a unique hybrid project. The pair have come from sold out performances at intimate venues in the heart of ATL to touring nationally all across the United States. With a tasteful shift in their sound, from glitchy break electronica to a more pulsing flow with shimmering synths, their new sonic direction sees Modern Measure poised to please listeners across the map.
With the support of their friends STS9's label, 1320 Records, Modern Measure continues to push the bar releasing original material, alongside remixes from renowned artists that continually inspire the band. Their most recent release, Happy Place EP, introduces listeners to the duos diverse electronic depth. With ranging vibrant melodies, tasteful drum and bass and more, this 5-track diverse body of work is sure to provide something special for old and new fans to come.
Modern Measure has shared the stage with friends and scene stalwarts such as STS9, Big Gigantic, The Disco Biscuits, Manic Focus, The Floozies, and SunSquabi. They've performed at national festivals including Camp Bisco, Hulaween, North Coast Music Festival, Summer Camp Music Festival, Counterpoint Music Festival, and Euphoria Music Festival just to name a few. Get familiar, get comfortable, and lock in: Modern Measure is a name you will continue to see in music for years to come.
Genre: Indietronica
Hometown: Atlanta, GA
MGMT: Whit Hawkins whit@thehawksnestmusic.com
Open to all territories ; US based and mainly booked
https://www.facebook.com/ModernMeasure/
https://twitter.com/ModernMeasure
https://www.instagram.com/modernmeasure/
https://soundcloud.com/modernmeasuremusic
https://open.spotify.com/artist/4TANJ61IDlNd5Jnv4IhogO
https://www.youtube.com/user/modernmeasuremusic