Larry Keel Experience
with Red Clay Revival, SUPER JAM! Larry Keel, Red Clay Revival and mystery guests from Empire Strikes Brass
Sat
Oct, 3
Doors:

4:00 pm
Starts:

6:00 pm
Salvage Station - Outdoor Stage
Ages 21 and Up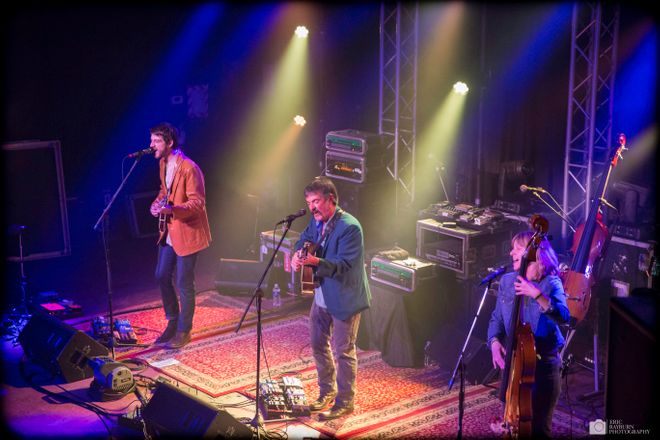 Additional Info
Artists
Larry Keel Experience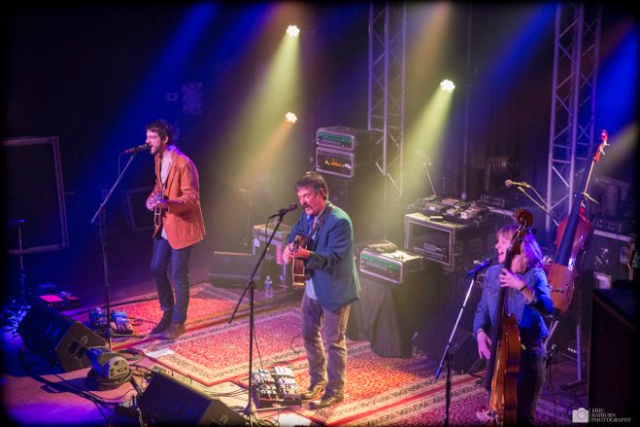 Larry Keel is an award-winning innovative flat picking guitarist and singer/songwriter hailing from the Blue Ridge mountains of Virginia. He absorbed the best lessons from his Bluegrass and Country music family upbringing, deeply steeped in the traditional mountain lifestyle and culture of the region. Out of that authentic roots background, Keel has forged a completely unique musical sound, integrating the highest level of sophistication and power on his instrument with the raw honesty and charming grit of his songwriting & singing. This captivating combination has earned him praise and widespread recognition around the world among fellow artists, fans and music reviewers. Del McCoury recorded Keel's "Mountain Song" on his Grammy-winning 'The Company We Keep Album', Keel has collaborated and continues to merge creative forces with some of the greatest artists in modern roots music such as Tyler Childers, Billy Strings, Al DiMeola, Tony Rice, Keller Williams & Sam Bush, to name a few.
Keel has been revered by critics at JamBase, Bluegrass Today, AXS, and Rolling Stone, who dubbed him "...One of the finest flatpickers around," and described his unparalleled live performance as, "taking songs up a notch with psychedelic hillbilly shredding."

Over the past 30 years, Keel has grown a cult-like following with his energetic performances and skilled musicianship; he has released 16 albums and is featured on 10 others, including his side project with Keller Williams, Keller and the Keels. Keller and the Keels' new album Speed debuted in November of 2019; Relix recently premiered their newest single "Medulla Oblongata".

His newest release with the Larry Keel Experience, One, follows Keel, along with his longtime bandmates bassist Jenny Keel and mandolin player Jared Pool, from the philosophical to the supernatural to the sardonic to the unapologetically romantic, all expressed with his charmingly gritty voice and masterful acoustic guitar work. Recorded in their road manager's basement, the band had a clear vision for One: to create an album without distractions and to give listeners a hard copy of exactly what they would hear at a live show. The group did just that without any isolation booths, overdubs, or studio gimmicks; the album was then mixed by Jeff Covert of Wally Cleaver Studios and mastered by legendary Grammy award-winning engineer Bill Wolf (Grateful Dead, Doc Watson, Emmylou Harris). Not only does One illustrate each member's honed talent at their respective instruments, it embodies the unique cohesion, energy, and magic that is sparked when the three combine forces.
Red Clay Revival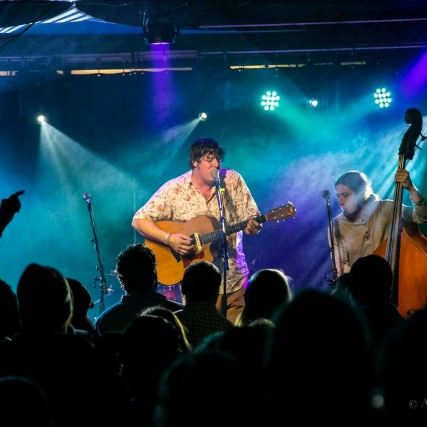 Born in the soul-basted countryside of Alabama, and brought to the heart of the Blue Ridge Mountains to marinade and mature, Red Clay Revival delivers an experience that reshapes the parameters of "roots music" as it is known. Bandleader and songsmith extraordinaire, Doug McElvy, lays a solid foundation at the epicenter of Red Clay's musical magnitude.
McElvy's skillful, heart-driven compositions are orbited by the most notable and virtuosic musicians in the industry today. For the 2012 full-length debut, Barefoot, McElvy teamed with resophonic guitar master, Billy Cardine, as creative consultant and co-producer. The album features collaborations with decorated pros, such as Keller Williams, Larry and Jenny Keel, as well as Tim Carbone of Railroad Earth. Barefoot received stellar reviews and accolades from industry peers and listeners alike. The title track earned a spot on Relix Magazine's widely distributed July-August 2012 compilation disc. For the 2014 EP, Chilly, McElvy and Cardine again paired in production, recruiting the talents of world class violinist, Casey Driessen, and beat master Jeff Sipe for backing elements. Chilly delivers nothing short of pure musical gold. Red Clay Revival's powerful live performance harnesses an energy that electrifies any room, leaving audiences with an embedded musical experience.
SUPER JAM! Larry Keel, Red Clay Revival and mystery guests from Empire Strikes Brass
It just keeps getting better! Mystery guests from Empire Strikes Brass will be joining Larry Keel and members of Red Clay Revival for a grand finale super jam that will blow your mind! If you've been missing live music, you won't want to miss this!